New Release!
The Secret - Fast Forward Here I Am
Music & Lyrics by Saundra Peppers Cooper
Performed by Kim LaRitz
Saundra Peppers Cooper's most recent work, "The Secret-Fast Forward Here I am", is now available at iTunes and most Internet Music Stores.
This song was absolutely inspired by The Secret book and DVD. Saundra was profoundly inspired after seeing The Secret team on the Oprah show. This song tells her story. Please take a moment and listen to this 30-second sample. To purchase the song at iTunes, click here.
Recording Studio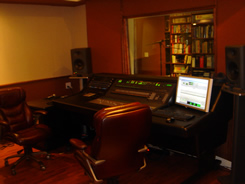 Los Angeles - South Bay
Professional Equipment
Affordable Rates
Spacious Facilities
Gear on Premises
Air Conditioned
Friendly Service
Behind the Scenes at the Opry